August 24, 1pm EST
How to Keep Your Remote Team Engaged During All-Hands Meetings
All-hands meetings can be a wonderful opportunity to align your teams, share information, and help build your company culture. If your hybrid or remote team is struggling with dwindling participation and engagement in your All-Hands meetings, you aren't alone.
Our transformative webinar is designed to help you to turn your standard All-Hands meetings into vibrant, dynamic experiences that will keep your remote team glued to their screens and engaging in your content. Scoot's CEO, Ed Stevens, will explore:
Strategies to strengthen the level of connection between your team
Techniques to enhance employee engagement and participation
Energy-boosting activities to infuse into your meetings
and more!
Event Details
Title: How to Keep Your Remote Team Engaged During All-Hands Meetings
Date: Thursday, August 24th, 2023
Time: 1:00 PM EST / 10:00 AM PST
Duration: 60 minutes
Don't miss this opportunity to master the art of remote all-hands meetings. Save your spot today by filling out the form to the right.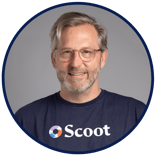 Ed Stevens
Founder and CEO, Scoot