September 28th, 1pm EST
How to Reduce Remote Employee Turnover
Techniques for Increasing Employee Retention
Through Deeper Engagement

Featured Speaker

ED STEVENS
Founder & CEO,
Scoot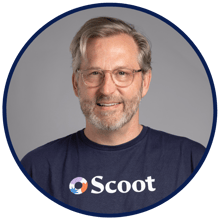 Tired of seeing top remote talent slip through your fingers? You're not alone. In a world where remote work is rapidly evolving, building trust and maintaining team cohesion is more challenging but more crucial than ever. Discover proven strategies to halt the exodus and ensure your team not only stays, but thrives.
Join us for an in-depth webinar where we'll explore actionable strategies to minimize remote employee turnover. With Scoot's CEO, Ed Stevens, you'll dive into:
The key drivers behind remote employee turnover

Innovative strategies for enhancing company culture and ensuring unity across remote teams

Tips for cultivating a sense of belonging from onboarding onward

Mastering the art of digital engagement with platforms like Scoot to captivate and connect your remote teams



Event Details
Title: How to Reduce Remote Employee Turnover - Techniques for increasing employee retention through deeper engagement
Date: Thursday, September 28th, 2023
Time: 1:00 PM EST / 10:00 AM PST
Duration: 60 minutes
Stay ahead of the game and safeguard your remote team's loyalty. Secure your seat now by completing the form on the right.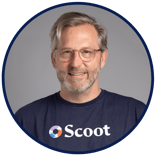 Ed Stevens
Founder and CEO, Scoot